Client Testimonials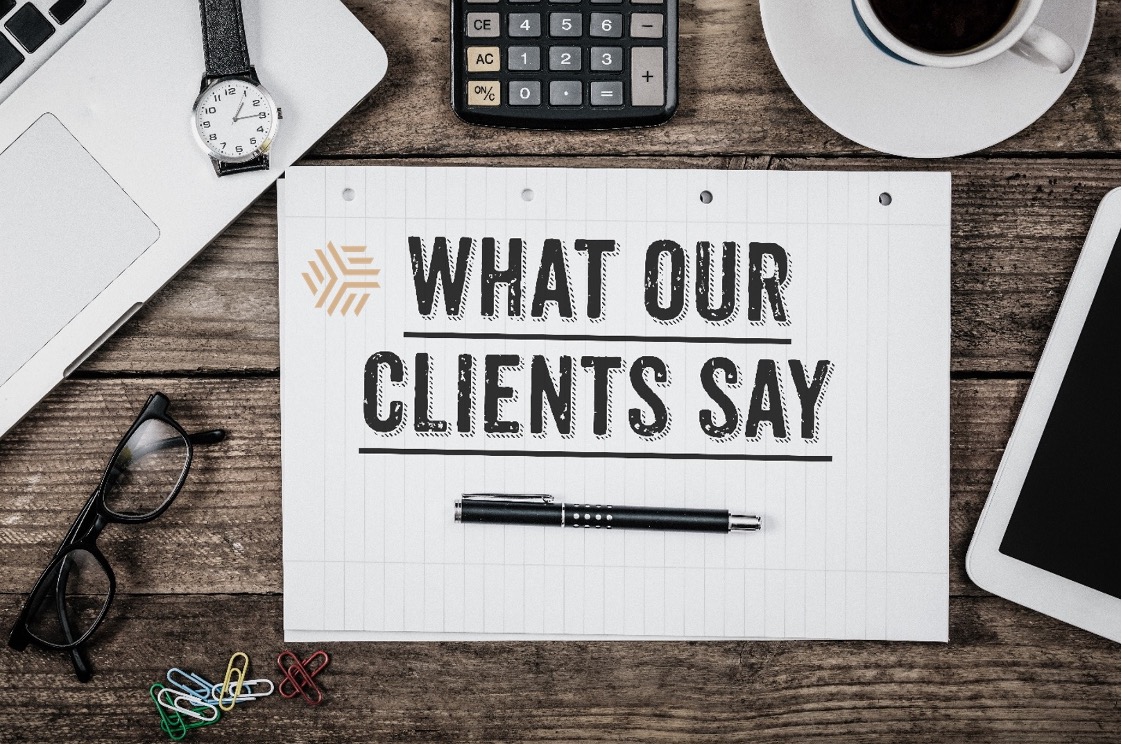 I am a client of Equilibrium Wealth Management and I have enjoyed working with Al and Jeff and their team. I have a high degree of confidence in their ability to guide me through retirement and manage my investments. I especially like the way they communicate and they are easy to talk with. If I can't reach them by phone and then leave a message, they always have called me back within a half hour. I also like the fact that they are a family run business, and that Jeff and Al are on the same page when it comes to both investing and financial planning. Talking to one is like talking to the other. I also appreciate the quarterly update meetings that we have and again the way they communicate in straight-forward terms about the economy and the markets. I would highly recommend them to anyone seeking help in retirement. They are a trustworthy, professional and competent wealth planning firm.
---
Several years before I retired, I began my search for a financial advisor. As a longtime investor and someone very comfortable with money management, I realized that I could benefit from professional guidance when I entered the next stage of my life.

My research led me to believe that most financial advisors take similar approaches and people's choices were mostly dictated by recommendations from co-workers or already retired friends. While recommendations are important, I felt the most important factor in choosing a financial advisor is comfort and trust. I know people who are intimidated by their financial advisor. They are often afraid to ask questions. They simply wait for their advisor to initiate conversations and are hesitant to pick up the phone and call when they have concerns.

One of the primary reasons I selected Al Delcorse was my belief that he truly cared about me and my thoughts. He has a unique ability to listen. This interpersonal relationship perspective is in addition to my confidence in Al's technical capabilities in financial planning and investing. Al has worked well with me and has tailored an individualized portfolio that meets MY needs. Many other financial planners won't deviate from a standard cookie-cutter approach.

While my initial contacts were directly with Al, over time I have also come to know and trust Jeff Delcorse, as well as many staff members. Something very important to me is that my spouse has gotten to know Al and Jeff and become very comfortable with them.

I enjoy the on-going relationship I have with Equilibrium Wealth Management, including reviews of my portfolio, general market updates and educational presentations. As such, I have recommended several close friends to trust Al and Jeff to guide them as they develop their financial plan.
---
I have been a client of Equilibrium Wealth Management for over 10 years. What initially attracted me to Alan Delcorse and his firm is their expertise in non-traditional investing. I attended a number of their seminars early on and began to appreciate the benefits of investments that go beyond traditional investments like stocks, bonds and cash. ln our meetings with Al and his team, my wife and I felt that they were a firm we could trust. I was also impressed with their knowledge of annuities and over the years this addition to my overall portfolio has made a meaningful contribution by reducing risk and providing income. I have referred friends to Equilibrium Wealth Management and will continue to recommend them.
---
I have been working with Equilibrium Wealth Management for the past 9 years, or so, and have been extremely impressed with their approach to financial planning and investment management. Not only are Al and Jeff knowledgeable and professional, but they also take a unique approach by utilizing alternative and non-traditional investments. One of the things I appreciate most about working with Al and Jeff is their willingness to think outside the box and explore options that may not be traditional, but have the potential to provide strong returns. They have a keen eye for identifying undervalued assets and have helped me to diversity my portfolio in ways I never would have thought possible. I have complete trust in Equilibrium Wealth Management and know that they always have my best interests at heart. Al and Jeff are responsive, communicative, and go above and beyond to ensure that my financial goals are met. I highly recommend them to anyone in need of a financial planner and investment manager.
---
We began working with Equilibrium Wealth Management around 10 years ago prior to our retirement. My wife and I both worked for a large corporation and had substantial balances in our 401ks from maxing our contributions after 30 years. From the start, Al was sensitive to listening to our needs and was able to pinpoint portfolios that had the right balance of risk and reward (or "Equilibrium" per the company name) which included alternative investments along with traditional: real estate, annuities, futures, convertibles, commodities, private equity, etc. Once our portfolios were developed, that was not the end of the conversations. Aside from being open to phone talks anytime, we typically have quarterly reviews and a candid EOY discussion around what went well and what did not (the "Good", "Bad", and "Ugly as he calls it). The strategy worked as planned in 2022 with our portfolios helping to moderate the losses from the markets. The addition of Jeff Delcorse, Al's son, has further strengthened our financial partnership since Jeff has very strong skills and credentials in financial planning. It makes perfect sense to marry financial planning and investment management activities. Jeff and Al now have a complete picture of our financial situation that is fine-tuned regularly to meet our evolving needs. The extensive experience between Al and Jeff along with Al's numerous industry awards make them a leading contender for anyone requiring financial help.
---
I began working with Jeff 3 years ago after the retirement of my previous certified financial planner of nearly 30 years, who recommended Equilibrium Wealth Management. After a smooth transition, Jeff has exceeded my expectations for personal attention, well-founded recommendations, and prompt attention to any concerns. He is a joy to work with, combining professional guidance with a warm demeanor. The financial world has been difficult these 3 years, but my portfolio has performed as expected from a well-diversified and balanced approach which has always been my guiding principle. I look forward to another long relationship with my financial planner and have put Jeff in contact with my son to continue this tradition of professional guidance.
---
I have partnered with Al and Jeff for the last 6 years, and the quality of their work has never wavered. They are incredibly communicative and always forthcoming about their plans to invest my money. I appreciate their attention to detail in their answers to my questions, which always come in a timely manner. Jeff is very helpful and ensures that he explains what is happening in the markets in a way that I can understand. They are experts in their industry and committed to delivering high-quality work.
---
We have known Al since 1996 when our daughters were in high school together. We've always found him to be hard working and dedicated. His family always comes first. In 2018 we made the decision to change financial managers. Having known Al for many years and having had many conversations about investments and the market, we did not hesitate to choose Al, the CEO and founder of Equilibrium Management, to facilitate this transition. In the last five years we have continued to find Al and his associates to be knowledgeable and they have provided great communication and customer service. Many external circumstances have influenced the market but Al's expertise and the quality of his preparation plus his timely communication have remained constant. The addition of Jeff Delcorse, a certified financial planner, has only strengthened our confidence in this group. We have recommended Al and Jeff's services to others and will continue to do so.
---
I'm very satisfied with Equilibrium Wealth Management and the services that Jeff and his team are providing to me. I think it's been two years now since Jeff has taken over my accounts and I couldn't be happier. Jeff is always there to take my calls and take the time to explain any concerns I have. He is able to explain things in terms I can understand. I feel that Equilibrium Wealth Management has done well for me, especially with the way things are going with economy and state of affairs. It's always a pleasure talking to Jeff and value his upbeat positive attitude. I would recommend Jeff and Equilibrium to anyone needing his services.
---
My wife and I have been with Equilibrium Wealth Management since the beginning of 2014. Al Delcorse, his son Jeff, and their team have helped us to focus on what we want out of life and are helping us realize our goals. Their knowledge and genuine interest in achieving the best for their clients is what makes Equilibrium Wealth Management a truly professional Financial Advisory Group. They have made an effort to get to know us and so the service we receive feels very personal. Their dedication to their clients cannot be over emphasized. What we like most about Al and Jeff is that they are only a phone call away if we have any questions or concerns. Their business excellence is unsurpassed, and we highly recommend Equilibrium Wealth Management as a Financial Advisory Team.
---
My wife and I have had our investments with Equilibrium Wealth Management for over 10 years now. Al, Jeff and their staff have been a pleasure to work with. My wife and I have slightly different investing objectives so Al and Jeff were able to tailor our investments for each of our needs based on our risk tolerances. This is something they do for all clients. I like that our assets are well diversified, with several that do not correlate to the stock market. We meet with Al and Jeff every 6 months to go over our investments and answer any questions we may have. Also, whenever there are any notable events in the markets, they are quick to communicate their thoughts. We feel this is important when choosing a financial advisor. We highly recommend Equilibrium Wealth Management. Al Jeff and their staff have earned our full confidence.
---
We have invested with Al Delcorse and his team for over ten years. The service is top-notch. Any questions or concerns are replied on the same day. The newsletter and online information is useful without sending too much. Zoom or in-person meetings are scheduled regularly. The outlook provided during the meetings is useful, and a complete performance review is provided. Al and Jeff work together with the rest of the team in a seamless manner. I used their network to create a private foundation and 401k for my company. They found the right partners and helped with creating the programs. We highly recommend them as a trusted financial partner. They are worthy of Five Stars.
---
I would like to recommend Equilibrium Wealth Management as a good Wealth planning firm. They have been very helpful to me and my son in managing our financial accounts in many instances, since we became clients about 2 ½ years ago. They use good solid business practices. This means they handle transactions efficiently and get back to us in a timely manner. Jeff keeps me up to date on recent market trends and has helped me expand my portfolio. He is always polite and gets back to me quickly when I have questions or want to change or purchase new investments. He is very knowledgeable about how the market will affect my investments. His advice has been invaluable to us, especially during this time of economic turmoil and during the pandemic.
---
These statements are testimonials by clients of Equilibrium Wealth Management as of 5/9/2023. These clients have not been paid or received any other compensation for making these statements. As a result, the client does not receive any material incentives or benefits for providing the testimonial